University College Dublin and Northeastern University partner to strengthen healthcare research
University College Dublin has signed a Memorandum of Understanding (MoU) with Boston-based Northeastern University (NU) to strengthen their shared focus on global challenges in healthcare.
Among the top 10 research institution in the United States, and global experts in health informatics and the deployment of Artificial Intelligence (AI) and Machine Learning (ML) in health, NU counts among its faculty and alumni Nobel Prize laureates, as well as Rhodes, Truman, Marshall, and Churchill scholars.
The MoU between it and UCD aims to drive mutual gains in health technologies research and innovation, alongside transatlantic educational cooperation through teaching and learning programmes.
The partnership includes several research strands including technologies for rehabilitation, biologics and advanced manufacturing, maternal health and clinical support tools for cardiac patients.
"I welcome this new initiative to further develop and strengthen the existing partnership between our two great universities," said Professor Mark Rogers, Acting President of University College Dublin.  "I look forward to working with Northeastern to deliver truly excellent, world-leading joint initiatives in the areas of teaching, learning and research."
"This agreement formalises a new and very significant partnership between the two institutions and sets out a shared ambition to jointly address key challenges through complementary research strengths, leveraging shared infrastructure and talent," added UCD Vice-President for Research, Innovation and Impact Professor Orla Feely.
"[We look] forward to mobilising and maximising our partnership with Northeastern University to jointly develop new solutions for Irish and European healthcare through impactful and excellent research, combined with novel joint initiatives around teaching and training."
Provost of Northeastern University Professor David Madigan, an Athlone-native who is on the advisory board of Insight, the SFI Research Centre for Data Analytics, said UCD and Northeastern have a "long-standing and highly successful partnership centered on student learning".
Adding: "We are extremely excited to extend the partnership to include an array of high-impact joint research projects. Our research strengths align beautifully and I have no doubt we will solve many important problems together in the coming years."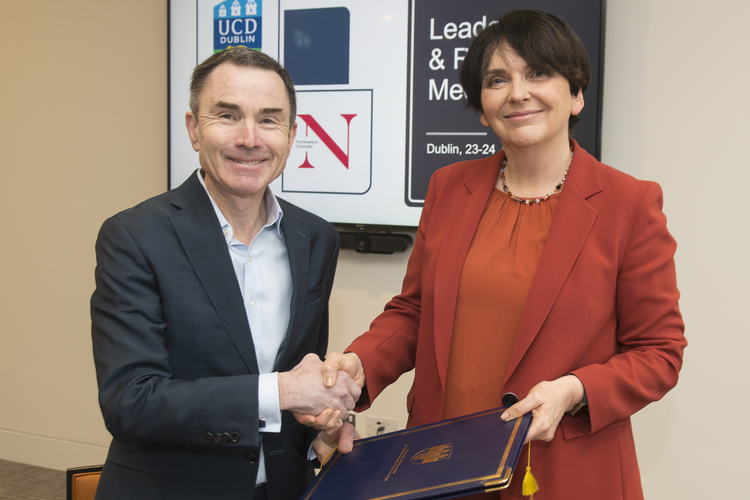 UCD Vice President for Global Engagement Professor Dolores O'Riordan said the new MoU would open up opportunities for academic and research collaboration, exposing students to "a more internationalised curriculum and provide them with a global dimension to key learning topics."
UCD is a national leader in the areas of precision medicine, genomics, bioinformatics, and clinical research.
In recent years, it has also made the application of data science and digital technologies in health an area of strategic focus, with the development of new programmes such as the AI Healthcare Hub interdisciplinary accelerator in the UCD Institute for Discovery.
"[This] formal partnership between UCD and Northeastern University… is an exciting development. Collaboration between our two institutions is already generating invaluable research and internationalisation opportunities," said Director of UCD Institute for Discovery and lead researcher on the AI_PREMie project, Professor Patricia Maguire.
"Leveraging shared research strengths between the two institutions, we will truly be able to increase the impact and scale of our research on maternal health, and clinical decision support technologies. Collaboration between world leading researchers at Northeastern, and our clinical partners, through the UCD AI Healthcare Hub will open up new research avenues and ambition, providing new technologies for Irish and European patients."
Professor Jared Auclair, NU Vice Provost for Research Economic Development and Director of Bioinnovation added: "The success of this partnership will be built on shared institutional values around use-inspired research that will drive innovation ecosystems that span Dublin and the many cities that are home to Northeastern campuses.
"Personally, I look forward to the impact this collaboration will have in driving innovation in biotechnology and biomanufacturing, with the potential to positively impact millions of patients' lives."
NU has been a study abroad partner for UCD since 2007, as part of its successful cooperative education program (Co-op), which adds professional experience as part of study programmes.
The NU-UCD study abroad partnership developed exponentially with the establishment of the Northeastern Freshman Study Abroad programme (NUin) in 2013. As a testament to the strength of the partnership, UCD was the only overseas partner where NUin continued to send students throughout the pandemic.
By: David Kearns, Digital Journalist / Media Officer, UCD University Relations (with materials from Caroline Byrne, UCD Research and Innovation),
Posted: 24 January 2023
Originally Published at
University College Dublin
by David Kearns
Read More